Seru Boca Marina is sheltered in a mangrove area and it is very quiet here. The only disadvantage is that for all errands you always need a car to get somewhere. Thanks to our German friends who take us to immigration, port authorities and customs with their car, we are then declared relatively quickly. Everything is quite far apart and would not be reached by public transport or on foot let alone the authorities in the port area first to find.
Because the marina is located in the mangroves there is plenty of wildlife, including some rather impressive iguanas. They usually lie on the rocks, or eat the grass, but when disturbed they run and dive back into the water.
We share a car with our German friends and explore the north of the island in the next few days. Curacao is with 64km length and 16km width the largest of the ABC islands. The capital Willemstad is reminiscent of a little Amsterdam with colourful painted facades. The two parts of the town are connected by a swinging pontoon bridge.
The bridge itself is made from many pontoons joined by the walkway. When a ship (or yacht) wants to pass through the entire bridge swings across the river and ends up alongside the western side of the river bank.
When the bridge is opened a free ferry service starts crossing the river. Alas! We never got to ride on the ferry.
Here in the city centre you often hear the Spanish language because a large part of the population comes from Venezuela which is only 35 miles away. Other languages spoken are a mixture of Dutch, English, and the local "Creole" based language of "Papiamento". This local language is itself a mixture of Spanish, Dutch and Portuguese.
The islands of Curacao and Aruba are autonomous parts of the Kingdom of the Netherlands with their own constitutions and parliaments. The currency is Antillean guilders, but US dollars are widely accepted, even on the buses!
Scenically, the island is rather monotonous with half-high thorn bushes and many, many cacti. The highest point is the Christoffelberg with 375 meters in a nature reserve in the north of the island. From up there you have a magnificent view and it is worth to climb up there. To make up for the relatively dull landscape there are many green parrots, hummingbirds (although not as numerous as the parrots) and some delightful songbirds that sing mainly in the mornings and evenings.
Other highlights are the great white sand beaches and the extremely clear water. Diving and snorkeling are great here.
Our favourite so far is even if the ambience around it sometimes seems a bit bizarre with a mobile oil platform next to it (Tak Baii Beach). There you can find a sunken tug boat which is populated with colourful corals, sponges and lots of fish.
Curacao got an economic boost from the oil industry. Another branch is certainly the tourism with, of course, many Dutch. One finds here above all in the south many luxury resorts and also gigantic mansions.

In the north, a little below Santa Cruz, there is an underground grotto that you can dive into from the outside. Once you have dived through the entrance, it is magnificent inside, a play of colours between the different shades of blue generated by the sunlight from outside.
Many of the yachts anchor in the bay of Spanish Water (Spaanse Water) where our anchor unfortunately did not hold.
Through our German friends we met other nice sailors who told us that it is advantageous (discounts in marinas and good network with other sailors) to be a member of the OCC (Ocean Cruising Club). Now we are proud members and already had a really nice meeting with other OCC members and a lively exchange. Because most of the sailors go from here to Colombia and to the San Blas Islands in Panama there is always someone who has "been there, done that" and will always have plenty of advice.
After 4 weeks we leave the marina and want to anchor in different bays for another 14 days. The number of bays which are mainly in mangrove areas is limited to only two places. (Fuik Baii and Santa Martha Baii). The other anchorages are outside and you need absolutely windless weather to anchor there.
Since here on Curacao everything is regulated and one needs each time an anchor license for each place and this is valid also only exactly for three days, we had bought right at the beginning with the Port Authority four licences. Because also the harbour authority is miles away and you need a car to get there.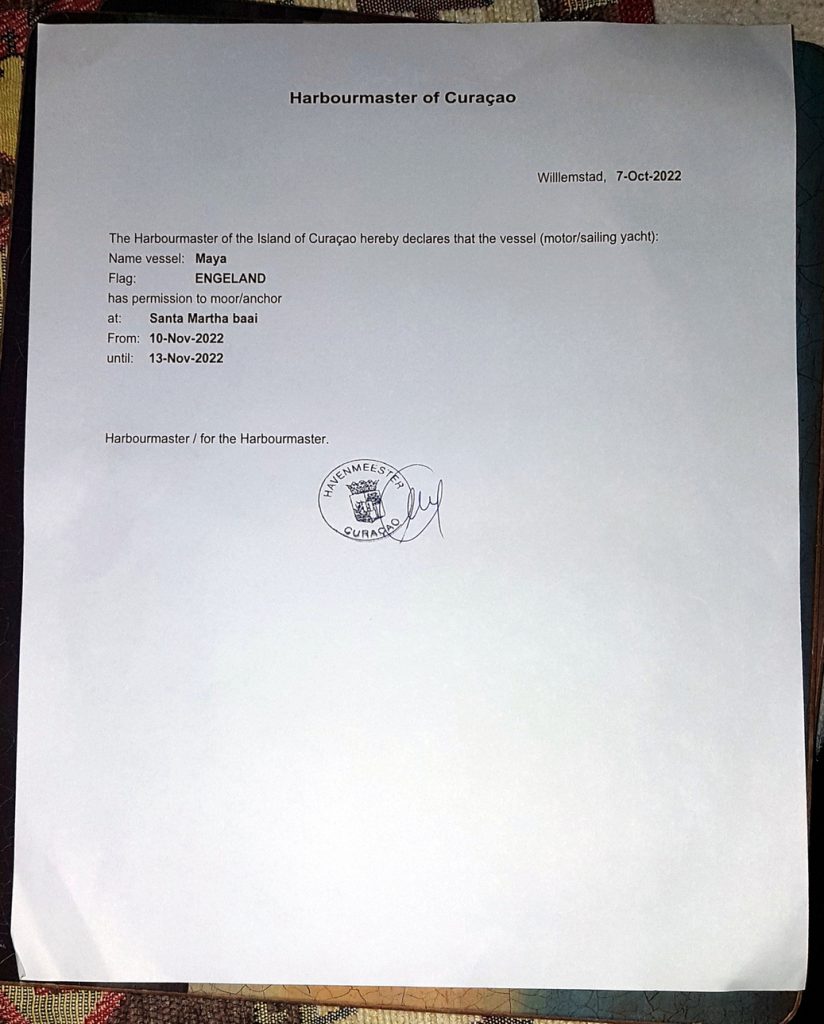 The first nights we were in Fuik Baii a large mangrove area and absolutely protected from waves and also partly from wind. However the peace is gone on weekends. Everyone who has a boat drives here and there are races with jet skis together with loud music until 2100 or later.
We like Santa Martha Baii much more because here we are all alone. The entrance to this mangrove area is not so easy to pass, because it quickly becomes very shallow on both sides. But John manages it without problems and steers directly according to the charts and the depth contours given there. Once you are through the entrance it is wonderfully quiet here. We decide to stay here for a few days and enjoy the peace and quiet every evening and also the bird life with its many yellow song birds and green parrots. It is wonderful here, a feeling of relaxation spreads, time and borders disappear. Except for a few fishermen who have their boats further in the mangrove area, we hardly see people.
On 16.11.2022 we go to the Curacao Marine where "Maya" will be lifted out of the water and will stay on the land until mid-March.

I will fly to Hamburg a little earlier to help my sister move into her new home.
We both return on 09.01.2023 to Curacao. The next 2 months we will spend for a change on the road in Chile. A long cherished plan of both of us is to finally travel Patagonia. The plan is to drive with a campervan from Puerto Montt to Punta Arenas. We are very excited and will report in our further blogs about it before it goes with "Maya" further in the direction of Colombia.