During the Atlantic crossing we celebrated Christmas (as best we could). My youngest son, Lawrence, had managed to bring with him a Christmas stocking with gifts. One of the gifts was a nautical quizbook for sailors which included a chapter on nautical tattoos and their meanings.
For example, an anchor tattoo means the sailor has crossed the Atlantic, a Swallow means he has completed 5000 sea miles, etc.
Later, the crew had obviously been chatting, they suggested that we should all get an anchor tattoo to celebrate the crossing together. At first both myself and Angelika were against this, it's not really our thing, but after a little more discussion we decided it was a good thing to do.
Each of us could have an anchor; Angelika could also have a swallow for 5000 miles sailed, and I could get three swallows as I have sailed more than 15,000 miles.
We agreed to have these done next time we were in the UK.
The actual process of getting a tattoo was no where near as painful as I had anticipated. It was more just uncomfortable than anything.
Of course there is now a need to collect more tattoos – the two boys need more sea miles to qualify for their first swallow, but an easier target would be a turtle for crossing the Equator. Guess where we're heading in 2024.
A new member of the family
Earlier in 2021 we had received some startling news, at least for my sister and I. It turns out that we had a half-sister that we didn't know anything about. Our parents had never mentioned it, and neither my sister nor I could remember anything "odd" from when we were younger.
Our "new" half-sister (Colleen) is 4 years younger than me, which meant I would have been just about 4 years old when she was born. For some reason it was kept a family secret and the only people that might have known the circumstances took that knowledge with them when they died.
Anyway, whilst we were in the UK we visited her in Berwick-on-Tweed (near the Scottish border).
It was an emotional moment to meet a direct relation who's been around your entire life, but that you've never known.
It was Angelika's birthday whilst we were there and Colleen had very thoughtfully arranged a birthday cake at a local coffee shop – it was very touching for both Angelika and I.
We spent too few days getting to know her, her husband and the area where she lives before moving on. We promised to return the next year.
The Lake District.
One of my good friends, Jon, recently bought a home in the lake district in a village called Great Broughton. It's located just across the road from a splendid little pub called the "Punch Bowl Inn". The pub is run by the locals and only opens on certain days of the week. They have won the CAMRA award for best beer in both 2018 and 2022. It was definitely a place to visit and spend some time with Jon and his wife Karen.
The area they live in is in the heart of the Lake District (guess why it's called that) and is, of course, surrounded by hills and lakes all dotted with good pubs and quaint villages.
Both Jon and Karen are avid walkers and it was our intention to do a couple of walks with them. In the end this wasn't possible as I have developed old mans' problem with one of my hips.
It also transpired that Karen is one of these crazy people that enjoys swimming in seriously cold lake water. Angelika is also a big fan of this and so naturally this was something she (Angelika) wanted to do.
So we went swimming in two different lakes – I didn't swim – I don't like cold water! Jon did once and I was really impressed that he managed to do it.
We also wanted to have dinner at a restaurant that is situated in the train used for the 2017 film "Murder on the Orient Express" (based, of course, on the novel by Agatha Christie).
The restaurant is at a place called Bassenthwaite Lake Station (Bassenthwaite Lake, Cockermouth) and is proving extremely popular, so much so that reservations are usually required weeks in advance.
The restaurant owners (apparently) wanted just a couple of old railway coaches in which to put the restaurant to go with the railway station theme they were developing. However when they got to the place where you buy this kind of stuff (I guess that's not Amazon or Ebay) there was the entire set from the film, for sale, for a reasonable price. They bought the entire train and ended up with a unique restaurant in an unforgettable setting.
The engine and the carriages were made extra large to accommodate the film crew and this helps with the space inside for dining. The train sits on it's own unique section of railway track as it will not fit standard gauge (size) track.
The engine looks mechanically very authentic but, alas, will never be able to move as it's not a real steam engine.
Unfortunately there was no space for us, so we have made a plan to return in 2023 and celebrate a birthday there.
On the last day we went to Maryport marina to look at Jon's boat "Sutrisha" (Westerly Centaur). Jon and his brother had recently completed a cruise in Scotland taking in the Crinan Canal and many other small ports and harbours along the coast. The boat can take to the ground without problems so they managed to visit several "drying" harbours – something else I have never done.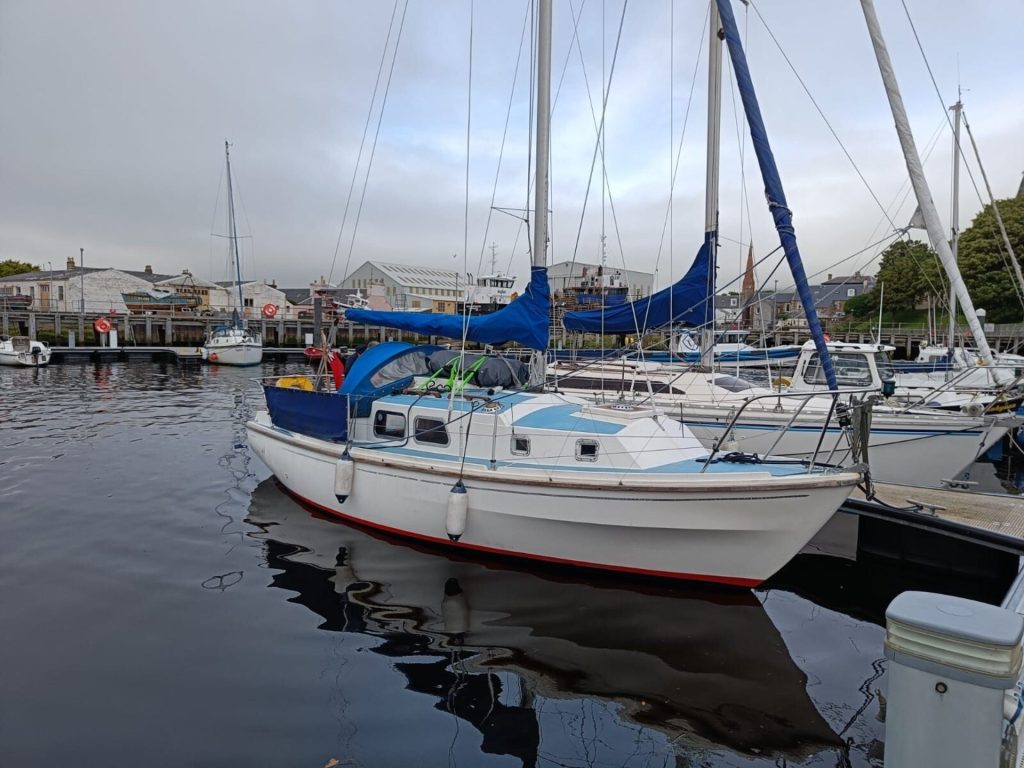 Eventually it was time to return to Marple (Stockport) and spend a final night with my two older sons before flying back to Hamburg.